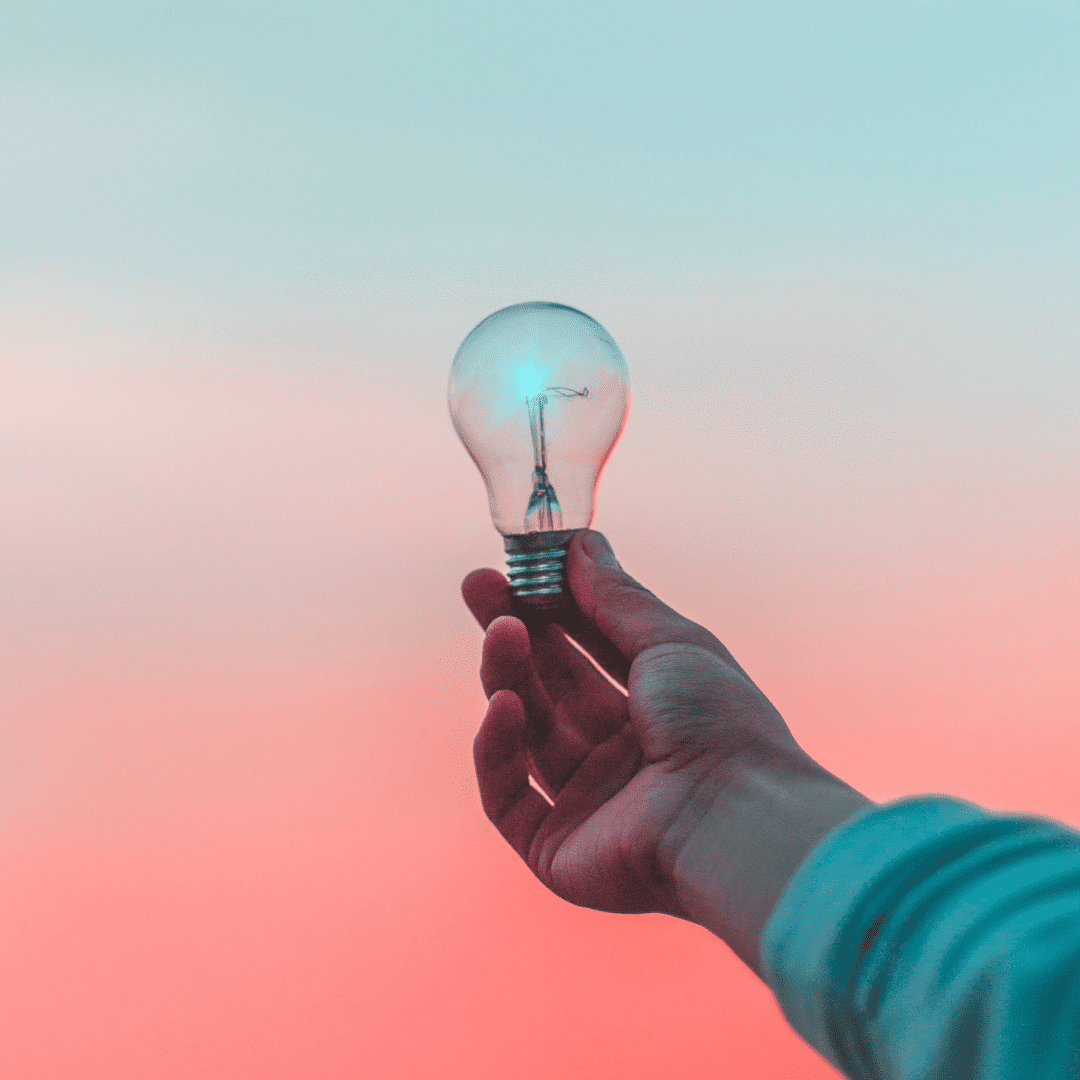 LIFE BLOG – Welcome Letter
September 12, 2022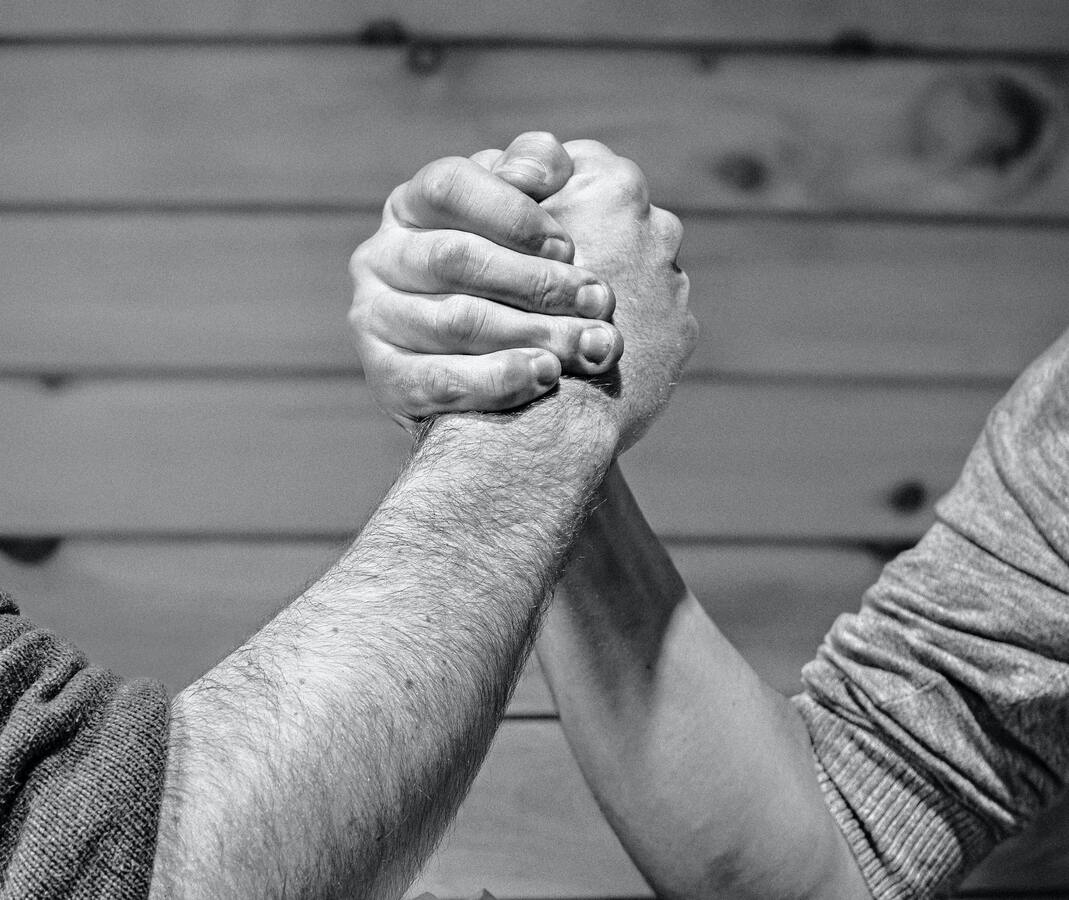 How to Wrestle with Tough Bible Questions? – Life Blog
September 22, 2022
Hot take: Thrifting is modern-day treasure hunting.
You will sift through aisles of clothes, shoes, books, and trinkets handed down through generations to find what has been hidden for you all along. As a young girl, my mom would take me on her early morning thrifting trips, coffee for the road, and a juice box for me. She would find vintage decor for our house or a burnt orange couch that would settle into our living room nicely for a measly 30 bucks. Although I knew my mom was finding treasure in the things of old, I wasn't sure I would be taking these trips as I got older. It didn't make sense to give a home to what had been left behind. That all changed when I began to wear my mom's clothes she had kept from her younger years… it opened my eyes to the rose-colored world of thrifting.
I began to thrift every chance I got. I would create stories in my head of someone who might have worn that yellow raincoat before me or held my deep green prayer book from the 1970s, hoping for a breakthrough. I love searching high and low for the perfect piece, and it doesn't hurt that it is quite the bargain when you find it.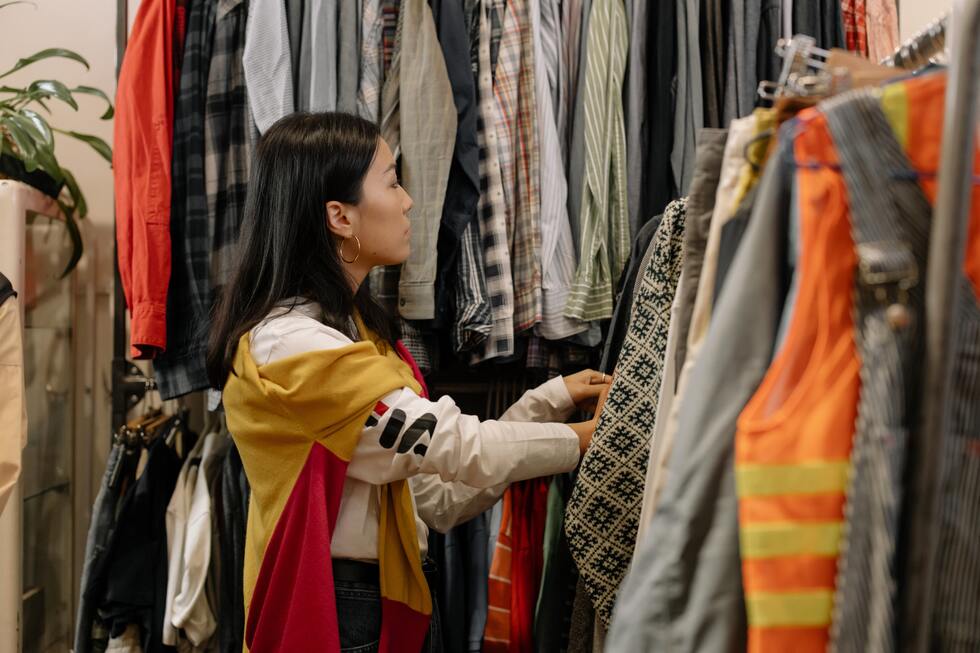 What's so great about thrifting?
One of the main reasons why I encourage others to thrift is for the prices. It's for anyone who has wanted to buy vintage jeans with quality stitching or a two-piece wool suit for an interview. Clothes are usually 10 dollars or less, whereas some thrift sales allow you to buy 4 items of clothing for a dollar. These finds are always durable because they were made during a time when the developing process was slower, better fabrics were used, and were meant to last you for years to come. A thrift find will never break the bank, and because of its quality, you will find yourself using it for all its worth!
What draws most people into thrifting is the concept of redoing. Suppose you ever want to remodel your kitchen aesthetic or want something fresh to spice up your coffee table. In that case, you can find a variety of things that will complete the look you're going for. Whether it's 25-cent photo frames for your blank walls, a beautiful brown wicker basket to keep blankets in, or vintage film cameras to add to your collection! You can come to the thrift store expectant and make your house more of a home!
There is also this component to thrifting that inspires you to step out of your comfort zones. It's worth it every time. There will be pieces you find that seem too wild to bring into your home (hats off to the quilted blanket/turned jacket hanging in my closet). But it's all part of expanding your horizons to have something that will end up being a conversation starter. Whatever emboldens you will contribute to how you carry yourself!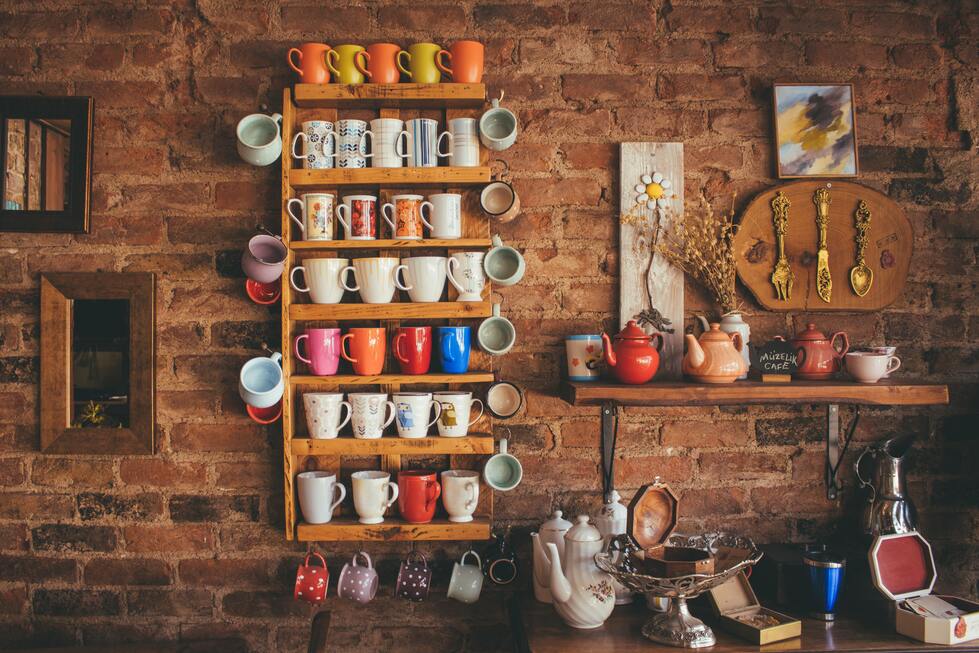 What else can I find at a thrift store?
What else can I find at a thrift store?
You don't have to limit yourself to just clothes. The allure of thrift stores is that there is never a shortage of new things to grab! Whether you need a card for a birthday coming up, a vintage watch to triumph that apple watch on your wrist, or some top gun sunglasses, thrift stores have your back! My favorite time of year is the Christmas season, and at the thrift stores, there are various ugly sweaters for your work parties, baby trees, and ornaments. All the decor galore to welcome in the most wonderful time of the year.

The treasures don't stop there. You will find paintings that have been around for ages and even roomy suitcases that will provide some flair at the airport. You can also find working DVDs, VHS tapes, and vinyl records (yes, you heard me right) available at a thrift store near you. These items are available to not only you but those around you! When I am out and about, I tend to stumble upon things others need, the perfect time to buy a surprise gift for a friend or family member.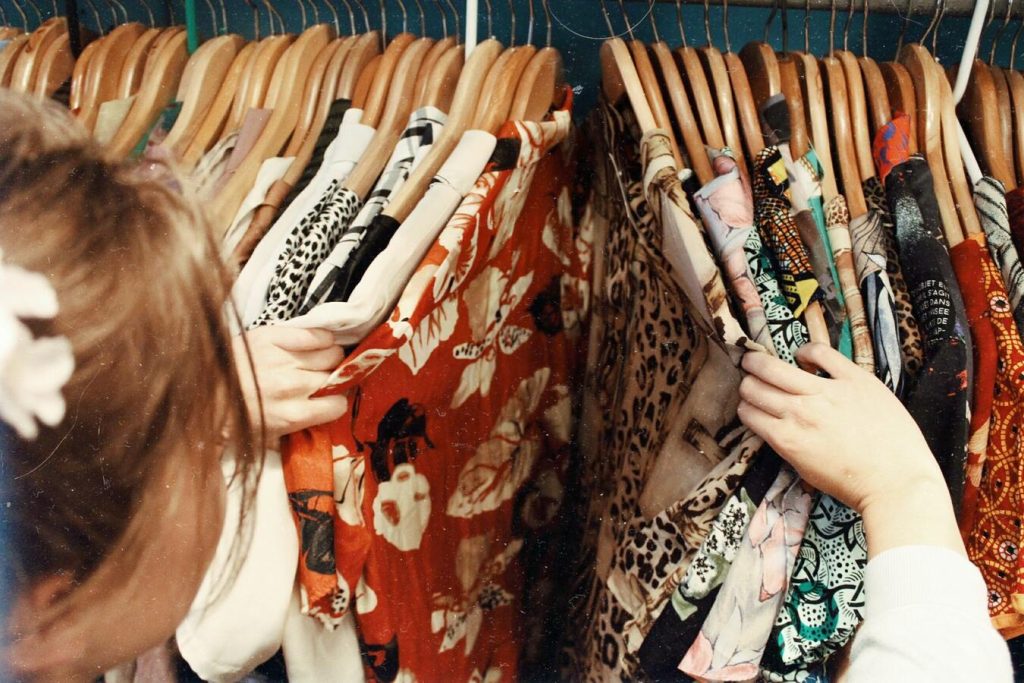 Can I thrift for every occasion?
This past summer, one of my dear friends went on a mission trip to Thailand. She needed an appropriate wardrobe for the weather there and the activities they would do with the college students. As the date grew closer, we would try to hunt down long skirts, shirt tanks, and loose dresses. It was such a joy knowing that she was preparing for something beautiful, and we found treasure after treasure until she was packed up and ready to go.
Another event I remember, was during my step-sister's wedding, where I was in a last-minute search for a dress (I know very Cinderella-esque of me). I went to all my favorite thrift spots until finally, Kiwanis on Del Prado held the beige cascading dress of my dreams for a price tag of $7. It's these kinds of steals that leave you over the moon! Thrift stores really do have everything in stock.
Thrifting for the first time.
Some people love to spend a whole day thrifting ('some people are me), while others prefer to have a list to keep track of what they are looking for and don't get lost in the myriad of stuff. When you are going on your first outing, bring friends with you (the more people, the more treasure to be found), and don't hesitate to try stuff on! Spend your time in the book sections where C.S Lewis might be hiding, and enjoy the new adventure that is to be found among the old.
On every thrift trip, bring your fruit of the Spirit with you! (Galatians 5:22-23) Yes, all 9!
Good things come to those who wait! Take your time, and you'll find a hidden treasure among those clothes that will pop up at the most unexpected moment!
Joy: Even on days where you don't find anything, delight in the seeking process. Meet people from our community as you compare thrift treasures and encourage each other to press on!
Even on days where you don't find anything, delight in the seeking process. Meet people from our community as you compare thrift treasures and encourage each other to press on!
Once you get caught up in the whirlwind that is thrifting, you'll believe you need every good find you come across. I always have to remind myself that even though I love something, someone else might make better use of it. Go forth with a thrifting plan already in mind, that way, you don't leave with a bunch of thingamabobs that will end up collecting dust in your garage.
s you enjoy what you find, giving as much as you take is good. Occasionally sift through what you have in your own home that would be better off in someone else's hands and donate it to your thrift store of choice.
It is the greatest treasure you can give to the people of Cape Coral; it is by our love that we are known as followers of Christ!
Walking in with peace is bringing glory to the name of God! There are people inside filled with anxiety and dread, needing the peace of the Holy Spirit that surpasses all understanding. Let all that you do demonstrate His peace.
I'm not just talking about handling items with care, but also the people inside the store! If there is someone who comes out of the dressing room asking for an opinion, be gentle with their hearts and what you say.
It's more than okay to accompany someone on a thrifting trip to find what THEY need over what you might want to find.
We get to hold onto God's promises, one of which is Him as our provider! If you are struggling financially, know that He will find what you need. The thrift store might be the place where He does it!
Where can I go thrifting?
Here in Southwest Florida, we constantly search for free things to do in Cape Coral and Ft Myers! This perfect outing allows you to give back to your community as well! A great adventure awaits you, one filled with endless possibilities. As you walk into these stores, be hopeful about what you could find and how you can bless others while thrifting for treasure! Happy thrifting!
Top 10 Thrift Stores in Cape Coral and the surrounding area
Hope Chest Resale Stores - Cape Coral FL
Cape Coral Store
Call 239-652-1114
Monday through Friday 9-5
Saturday 9-4
Closed Sunday
Hope Chest Resale Stores - Bonita Springs FL
Bonita Springs Store
Call 239-444-1100
Monday through Friday 9-5
Saturday 9-4
Closed Sunday
Hope Chest Resale Stores - Fort Myers FL
South Fort Myers Store
Call 239-322-5350
Monday through Friday 9-5
Open Saturday 9-4
Closed Sunday
Pine Island Community Church - Pine Island FL
They give away many items to needy families and individuals in their community. 
Thrift store hours are Monday-Saturday (closed Thursdays) from 9:00-2:00.    
Kiwanis - South Cape Coral FL
Call: 239-542-2849
Hours: MON-SAT 9:00 AM – 5:00 PM
Closed Sundays until Labor Day
Kiwanis - North Cape Coral FL
Call: 239-574-1560
Hours: 
TUE-WED 10:00 AM – 4:00 PM
THU-SAT 9:00 AM – 5:00 PM
Closed Sundays and Mondays until August.  
Salvation Army Family Thrift Stores - Cape Coral FL
Call: 239-540-0265
Hours: 
MON, TUE, THU, FRI, SAT 10:00 AM – 6:00 PM
WED 9:00 AM – 6:00 PM
Teen Challenge Super Thrift - San Carlos FL
Call: 239-267-5433
Hours: 
MON – SAT 9:00 AM – 8:00 PM
SUN – Closed
Teen Challenge Super Thrift - South Tamiami Trail FL
Call: 239-985-9813
Hours: 
MON – SAT 9:00 AM – 5:30 PM
SUN – Closed
St. Matthews House Thrift Store - Bonita Springs FL
Call: 239-774-3315
Hours:
MON – SAT 9:00 AM – 5:30 PM
St. Matthews House Thrift Store - Ft Myers FL
Call: 239-791-7788
Hours: 
MON – SAT 9:00 AM – 5:30 PM
Read My Article
Thrifting For Treasure